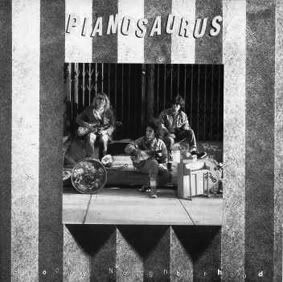 Sometimes you see a bandname and you can only hope please,
please
let this be a good band. A band that was cool enough to name itself after a plastic toy piano in the shape of a dinosaur but sounds like crap would break my heart.
Luckily, no such worries with Pianosaurus. The only studio album by this band from New York, 1987's
Groovy Neighborhood
is a sparkling curiosity, an enthusiastic gimmick that manages to be much more than just a novelty. All their pop songs are played on children's instruments, but manage to sound like proper pop & roll. Both Alex Garvin's original compositions and the cover songs sound like little bursts of creative joy and are surprisingly well-played.
Sadly, ages after all other dinosaurs, the brave Pianosaurus went extinct before the (finished) second album was released. Even more sadly, that second album is still lying somewhere on some shelve gathering dust, unheard by anyone.
Download
(Mediafire)
1. Pianosaurus - Sun will follow
2. Pianosaurus - Memphis
3. Pianosaurus - Ready to rock