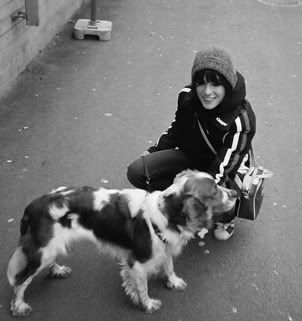 Soda Fountain Rag is the solo project of Ragnhild Hogstad Jordahl from Bergen, Norway. Back in April she released her powerful debut album
It's Rag Time!
on
Yesboyicecream
, after having released EPs on
Cloudberry
,
Anorak Records
and
Myhoney Records
earlier. One listen and it's clear that Ragnhild is not an average pop songwriter. Two listens and you'll be intrigued. Three listens and you'll be obsessed. At least, that's what happened to me. Who is this one woman band?
Can you describe how, when and why you started making music?
Not really. I can't remember when I started making small melodies and such, but the Soda Fountain Rag-thing started early in 2006. Back then it was just for fun, and just for me, but after a little while I wanted to make the songs available for other people to listen to. I was very happy when I found out that some people actually liked it, as I am a sucker for attention.
I'm assuming you named yourself after the Duke Ellington song. What was the kind of music you grew up with?
I grew up in a household with a lot of classical music. I remember seeing my first opera when I was 9 (it was
Il Trovatore
by
Verdi
), and I really loved it. I was also a big fan of
Vivaldi
, but this had to be kept quiet, as some of the other kids allready kinda disliked me. I also loved
The Beatles
as a kid. Later on
Radiohead
was a really important band for me, until they stuck their collective head so far up their own arses that it became impossible to listen to them anymore. In the late teenage years and the early 20's
Manic Street Preachers
and
Broder Daniel
became the most important bands. I still haven't found a band that can knock the Manics'
Holy Bible
down from my all time favourite album list.
The list of influences on your website range from Eminem to Bach, and from Rough Bunnies to riding your mum's bicycle. What are current bands or singers you like to listen to?
Early this year I got so fed up with all the cute indie pop I had been filling my head with, and as a result I listened to nothing but Eminem for about a month. He's great. This fall I've been listening a lot to
Heinrich Ignaz Franz von Biber
, who apart from having a great name is a quite cool baroque composer. Check out his
Rosary/Mystery Sonatas
! Other great things are
Hästpojken
and
Vapnet
. Bach is, and always will be, the king.
Apart from playing as Soda Fountain Rag you play drums in The April Skies and violin and keyboard in Herr Nilsson. Is Soda Fountain Rag your main project, or does every band get equal attention?
Every band does not get equal attention, but there's no need for that either as my role in the different bands are... different. The April Skies have done only one gig this past year, but that was great fun! And I love being in Herr Nilsson. I honestly think being asked to join that band is one of the very best things that have ever happened to me. It's the greatest gang of people I know of. This fall there's been too little music in my life, because I was finishing my master in philosophy and I find it hard to concentrate on more than one thing at the time.
Do you feel part of the music scene in Bergen? And part of a bigger pop scene worldwide?
In Bergen: no. Worldwide: maybe.
So far you've been recording solo, while playing live with a band (with Anders Kaasen on guitar and Nickolai Nilsen on bass). Has this been a conscious choice? Do you prefer working alone?
Yes. Solitude is often a good thing. Not having to explain things or make appointments and agreements is quite practical, and it's easier to do things fast that way. Fast is good. I have however done some recordings with the band in Italy, and that was great fun, and it sounds nice too, so I think having the opportunity to do both things is the best.
The album It's Rag Time! was released earlier this year, while it had been recorded back in 2006. Why the delay?
This is not quite correct. I think I figured out that about half of the album is recorded in 2006, the rest in 2007. Things take time. After the recording of the songs there's the mixing (and this includes quite a bit of cleaning up my mess) and mastering and the cover art and the this and the that and... you get the idea! It took longer time than I expected, but I don't mind as I didn't have to do any stressful things myself. And I absolutely love the cover art. I think it captures the songs in a good way.
Does this maybe mean we can expect a new release relatively soon?
Maybe.
Who is Ragnhild Hogstad Jordahl when you're not making music?
Ragnhild Hogstad Jordahl is very much the same person when she's making music as she is when she's not. One should get some idea from my songs; the revengefulness, the sadness, the happiness, the madness (both interpretations), the childlikeness, the love for books and the love of love is all very much present in my life.
Is there any chance we can see you play some shows outside Norway again soon?
I don't know.
We'll just have to hope and wait and see, then. Merry Christmas, Rag!
Soda Fountain Rag myspace
Yesboyicecream Records
Anorak Records
Cloudberry Records
Myhoney Records
Download
(Mediafire):
1. Soda Fountain Rag - Don't kill the clowns
2. Soda Fountain Rag - Monkey girl
Bonus download:
Herr Nilsson have a free MP3 EP up on
their blog
.