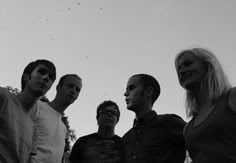 Hari and Aino
are a pop quintet from Stockholm, Sweden. We first heard of them in the Summer of 2007, when they released their twinkling debut single
Your heartache and mine
on
Cloudberry Records
. Since then there's been a near perfect self-titled album on
Plastilina Records
in 2008, and a new Cloudberry 7" is out right now. This Spring Hari and Aino will take their pretty music on tour around Europe. I thought this would be a good moment to ask Hari and Aino's Kristoffer Rengfors a little bit more about the band.
Hello Kristoffer! Let me ask you the most obvious question first. There are obviously five of you. Why did you choose the somewhat confusing name Hari And Aino?
Kristoffer:
Sometimes it´s best to just let things be what they are. There might be five of us, but we are still Hari and Aino, no matter how confusing it might seem to the outside world. A name might have a meaning for someone, but sometimes it´s just a name. And sometimes one band has two names. And sometimes two names are one name of five people playing music together. It´s really not that complicated.
Can you give us a short history of the band? How did you all meet, and why did you decide to make music together? Have you been in other bands before?
Kristoffer:
Most of us have known each other since we were teenagers, or even younger. We have all been in bands before, some of us have been in bands together. Hari and Aino started out from the scraps of a broken up band that never worked out, and never produced anything good. In came Andrea and made it possible for us to write the songs we had always wanted, but never hade the possibility to write without a voice like hers.
Your name sounds a bit Japanese, your album was released on a Peruvian label, your singles on an American label, and you wrote a song about Finland. I guess you're quite internationally oriented! But what can you tell us about home? Do you like living in Stockholm? Do you feel part of some sort of pop community there?
Kristoffer:
I guess we know a lot of people who consider themselves to be a part of the Indie scene in Stockholm. But Hari and Aino has never really been apart of that group of 'indie' people in Sweden where everybody seems to know everybody. And there is no real desire to belong to that group either. There´s probably more people outside Sweden who listen to our music and that´s fine. Why care about what goes on in small frozen Nordic country when there is a whole world out there?
Despite some meloncholy lyrics, your music is the kind that lifts you up and makes you smile. It's bright and warm, breezy pop music. How do you write your songs? Is there something that makes a song a Hari and Aino song?
Kristoffer:
We usually write songs based on melodies. It almost always starts with a melody or some chords on a guitar and then we build the songs together during rehearsals. It´s a very collective process and requires participation from the entire band. Probably what makes a good Hari and Aino song is what makes any pop song good, a good solid foundation decorated with something that makes you stop and listen.
What kind of music did you grow up with? Do you have a song or album that immedeately brings you back to your youth when you hear it?
Kristoffer:
One common artist that seems to pop up for many of us is
Alice Cooper
.
School´s out
is one of those songs that really takes us back. Pontus, who plays keyboards and guitars always wanted to be Marie Fredriksson from
Roxette
. So if he hears
June afternoon
he thinks it´s 1995 again and he turns 12 again. A band that always reminds you of the first times you picked up a guitar is
Nirvana
, mainly because their songs were easy enough to learn by yourself.
One of your songs is called Buy an island. What would you bring with you to that island if you had to live there, alone, for a year?
Kristoffer:
We would of course bring the rest of the band and all of a sudden we wouldn't be alone anymore. Even though I would imagine that we would kill each other before the year was over if all we had was each other.
What do you do when you're not playing with the band?
Kristoffer:
Work work work. Sadly this is not a full time thing. We´d all love for it to be, but it just isn't. If we didn't´t have to work we´d be out there playing every day.
You're playing in the Netherlands next month. If you have time for an evening in Amsterdam, come say hello! You're also playing shows in Spain, Germany, England and Wales. Is this your first international tour? Nervous?
Kristoffer:
What are you saying? You are not coming to see us play when we come to The Netherlands? Nervous about touring? No not nervous, but excited. It´s going to be great to do some shows outside Sweden, we´ve come in contact with to so many people all over the world through this band so it´s going to be nice to finally meet some of them. We are really excited about this.
Your second Cloudberry single is finished and about to be released. What's coming up next? What are your plans for 2009?
Kristoffer:
We are recording new songs right now. So our plan for 2009 is probably to first of all play a lot of live shows this spring, then finish some more recordings and release them. If it´s a new album, some singles, an EP or how our next releases will be is not clear yet. Making full albums doesn´t seem that important anymore, but then again who doesn´t like a good album. We like to record only 3-4 songs in one session and then work with them for a while, so who knows if we even sound alike the next time we go into the studio?
Thanks Kristoffer. I might be there in Gouda, actually, if the trains will take me back to Amsterdam that late. Enjoy your European tour!
Hari and Aino myspace
Cloudberry Records
Plastilina Records
Download (Right click, save as)
1. Hari and Aino -
Second song
2. Hari and Aino -
Your heartache and mine
3. Hari and Aino -
Seasons
4. Hari and Aino -
A considerate kind of home