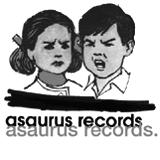 If you go over to the
Asaurus Records
website, you'll be confronted with this message:
"So folks, this is the beginning of the (potential) end for Asaurus Records as we all know and love it. Your last day to place an order is June 15th, 2008. After that is anybody's guess. I have a few ideas, but we'll talk about them later."
That's only one week left to get those lovely records. I took this opportunity to order the two completely wonderful Colin Clary (of The Smittens) records out on Asaurus. They're nice little handmade packages with great music and also really cheap, so go have a look!
Download
(Mediafire)
1. Colin Clary - The mixtape on my mind (from 'Sweater Weather Or Not, These Are The Songs I Got')
2. Colin Clary - Backseat, man (from 'Apocalypse Yow!')