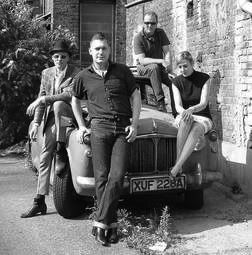 It's been a long while since I posted some good old garage music, and what better way to make up for that than with The Masonics, a band consisting of garage legends only? They are, as they write on their Myspace:
...a winning combination of Milkshakes, Pop Rivets, Wildebeests, Kaisers, film editors, Micky & Ludellas, Vectors, Headcoats, commercial artists, Kravin "A"s, Auntie Vegetables and landscape gardeners.
A winning combination it is indeed. The Masonics are without any doubt one of the very best current authentic garage bands, with some truly addictive songs to show for it.
http://www.myspace.com/themasonics
Download
(Mediafire)
1. The Masonics featuring Ludella Black - You waster you
2. The Masonics - Here I come
3. The Masonics - The march of the space goblins
4. The Masonics - Truth will out