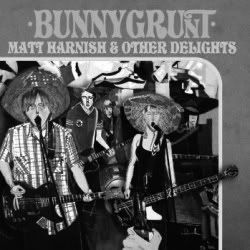 Do you remember how Bunnygrunt hated to be called twee? Cuddlecore? No? Oh. Anyway, it's 2009 now (not the early '90s) and Bunnygrunt have a new album out:
Matt Harnish & Other Delights
, on
Happy Happy Birthday To Me Records
. Listening to this album the above discussion seems ridiculous, unlikely even. This is hard pop, speed rock; there are even some serious guitar solos here. It's all rather fantastic too.
Matt Harnsih, Karen Ried and friends fill all 10 songs with great harmonies, black humour and an amazing pace. It's what made Bunnygrunt addictive in the past, but this is definitely the next level. Listen to album opener
665 & 1/2 won't do
below and you'll see what I mean.
Buy this album
here
Bunnygrunt myspace
HHBTM website
Download (Mediafire)
1. Bunnygrunt -
665 & 1/2 won't do