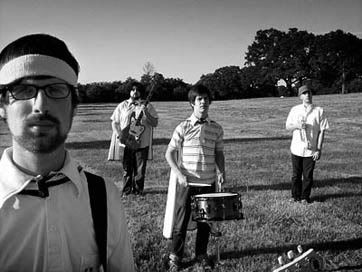 Fishboy are a four-piece from Denton, Texas fronted by singer Eric Michener. They make delightful indiepop that to my ears sounds somewhat like an ecstatic mix of Neutral Milk Hotel and Tullycraft. Or, as the band puts it on their website, a sound that:
"...meshes the band's lo-fi twee pop roots with a loud, energetic rhythm section topped with the occasional horn, piano, or organ, the result of which is somewhere along the lines of fellow Texans Daniel Johnston and Britt Daniel (Spoon) joining the Danielson Famile to play for Anthony Daniels (C3PO) and Daniel Day Lewis (moustache) as they both drink Jack Daniels on a Sunday afternoon."
Hard to argue with that!
If that desciption confuses you, just filter out the hidden message: they sound great. This is music that will make you feel happy.
Their latest album
Albatross: How We Failed To Save The Lone Star State With The Power Of Rock And Roll
is available at
Happy Happy Birthday To Me
.
http://www.yofishboy.com
http://www.myspace.com/fishboy
Download
(right click, save as)
Parachute (Using the ghost of Buddy Holly as a)
Taqueria girl
Half time at the proper name spelling bee