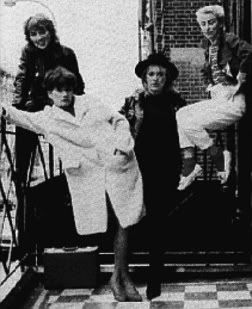 The Mo-Dettes were one American, one Swiss, and two British girls. Starting in 1979, together they made some excellent songs. Back in the late 70's, early 80's, they probably would have wanted me to call them punk, but although there is certainly a rough edge, the pleasant melodies and the mastery of their instruments take this at least one big step towards brilliant pop.
On November 27
Cherry Red Records
will re-issue the lone Mo-Dettes album
The Story So Far
, making it available for the first time on CD.
Included below is the classic
White mice
, and their fantastic cover of the Rolling Stones'
Paint it black
. Love these? Don't miss this chance to finally get your hands on
The Story So Far
!
Mo-Dettes
myspace
Order the album on
Cherry Red Records
Download
(Mediafire)
1. Mo-Dettes - White mice
2. Mo-Dettes - Paint it black