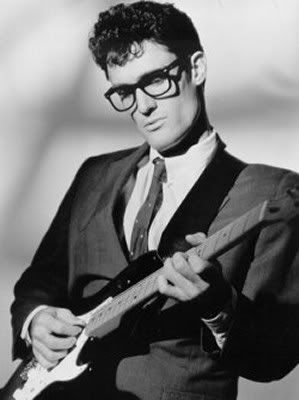 Some music has always just been
there
. You accept it without giving it specific further attention. No hipster points to be earned, no need to follow a hype.
Talking about old: Buddy Holly's Crickets were possibly the very first real rock band. They wrote and played their own songs in a basic two guitars-bass-drums lineup. Pop's grandfathers, with a very direct link to the indiepop we all hold so dear.
Homework assignment:
1. Download this batch of songs;
2. Pretend you know nothing about either Buddy Holly or his music;
3. Press play and close your eyes.
Then run to the stores and buy all his albums.
Not everything that's old is rusty. Don't take it for granted; you'd miss some of the most satisfying music ever made.
Download
(Mediafire)
1. Buddy Holly - That'll be the day
2. Buddy Holly - Rave on
3. Buddy Holly - Peggy Sue
4. Buddy Holly - Words of love
5. Buddy Holly - Oh boy!