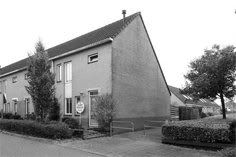 I've been busy.
I've hinted at it in previous posts, but now it finally seems I can be quite sure about it: I've bought a house. If nothing unexpected goes wrong in these few coming weeks, the house in the little picture is ours by springtime. It's going to be a big change, from my two-room appartment on the third floor in Amsterdam to a complete corner house with a garden in Almere. From living alone to living with a partner, a child and a dog.
Am I growing up or what?
Almere is one of the youngest cities in the Netherlands: 65 years ago there was nothing but water here. The Flevopolder was finished in the early 1940s, the first house was finished in 1976 and Almere became a municipality in 1984. It's quite a change from the 1000-year-old Amsterdam, in almost any aspect.
Our neighbourhood is called the Muziekwijk, with streets like the Beatlesweg and the Rolling Stonesstraat. It's wishful thinking to hope to find some indiepop-related streetnames, but hey, I still like it as it is.
If you're ever around, come visit. We'll have a garden party!
Download
(Mediafire)
1. Pants Yell! - The not-so city life
2. Detroit Cobras - C'mon over to my house
3. Dragonette - Get lucky