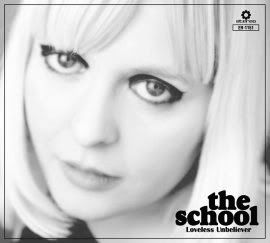 From the
Elefant Records
website:
"It's finally here. The throne has been claimed. For years, all the fans of the best pop waited anxiously for that group that was going to occupy the space left between THE PIPETTES, LUCKY SOUL and BELLE & SEBASTIAN, heirs of the best pop from the sixties (THE SHIRELLES, THE RONETTES, THE SUPREMES...) and the best Scottish pop (CAMERA OBSCURA, BMX BANDITS...). But it's finally here, "Loveless Unbeliever", the debut album of THE SCHOOL."
Good news indeed! To make it even lovelier, there will be a limited edition of this album for vinyl lovers (on red vinyl).
The official release is planned for May. Time to get impatient!
Download
(Mediafire)
1. The School - I want you back